Arts in the city

It's so fun to find out new things when you walk in towns.
Osaka city, Tokyo city, Kyoto, Nara, some far cities abroad ....
Show flutter and magical arts we found in those cities. Imagine yourself taking a walk with us, and have fun.
translated by Mayuko Mori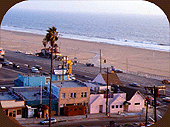 1. The beach at Santa Monica, California.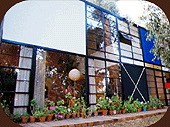 2. There is a simple but beautiful and colorful house on the hill you could look down this beach.
3. The architect, Charles & Ray Eames, is famous for various fields such as Architecture, Design, Films. This house was built as " Case Study House #8 " by the sponsor, " Arts & Architecture Magazine " in 1945. They built up in 1949 and moved in the house at Christmas eve with their many books, furniture and toys. The color of the outside wall such as red, blue and white gives the active impression of the house.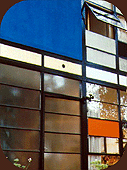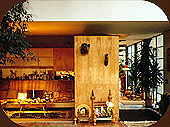 4. The house consists of a work space, a living, and a courtyard between them. You could divide spaces by partition freely. Furniture designed by them, Japanese lamps and kites, and Southeast Asian ornaments are decorated in the living room.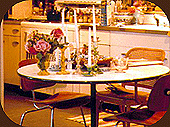 5. There is a spiral staircase from the space between living and dining kitchen to the bed room.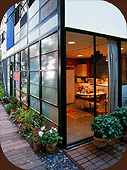 6. They already died, but their daughter still live in this house.